Welcome to the Vegreville Agricultural Society:
The Vegreville Agricultural Society's primary focus was to promote and improve various types of livestock, grain and homemaking skills in a social environment. This aspect remains to this date and has grown to include an annual exhibition and fair, ongoing educational courses and many community sponsored events.
Our mission statement: "To promote agricultural ideals, education and entertainment for community enrichment as a volunteer organization"
---
VAS & Iron Runners present
MODIFIED FATHER'S DAY EVENT
June 20th 12:30 pm – 3 pm
Sponsored by Veg Auto & Industrial Supply and Bumper to Bumper
DRIVE IN & DRIVE BY PARADE
With Antique Cars, Trucks, Bone Wagons, Tractors, Motorcycles & Snow Machines
(No walk in or pedestrian traffic- fans must remain in their vehicles while driving by)
GATE PRIZE
1ST – Gas powered Pressure Washer $750.00 value WINNING TICKET # 5319966
2ND PRIZE HAS BEEN CLAIMED 2ND – $500 CASH WINNING TICKET #5317319
Winner has until Friday at midnight to claim their prize. Please keep your tickets incase we need to draw again
---
2021 VEGREVILLE COUNTRY FAIR
You might of heard the buzz around…….
So here it is, pending Covid restrictions and/or changes the Vegreville Agricultural Society is proud to announce we are planning to host the 2021 Deerland – Vegreville Country Fair. With the province's Open For Summer plan fully opening in early July we are going ahead but with some changes for this year. There is a lot of things operationally that we need to figure out how we do some of the planning, but we are confident that we can all pull together and give the best family entertainment around.
Our board of directors have decided to host our annual Country Fair for not 3 days but 5 days this year. The Country Fair will be running from Wednesday August 4 to Sunday August 8, 2021.
We have worked with our midway company and the Alberta Pony Chuckwagon and Chariot Association to have a midway and races all 5 days.
Having a fair is a huge undertaking but hosting one for 5 days will test us all. We are hoping to have any organization that would like to help us to contact our office and see where they could help fill in some volunteer spots.
Make sure to check all updates on our website
www.vegag.ca
and of course our facebook and Instagram pages.
This year it's "Bigger, Better and Stronger than Ever Fair"
Once again we would like to thank our sponsors, without them our Fair would not be possible!
See you all at the Deerland – Vegreville Country Fair Aug 4 – 8, 2021
President,
Alan Baxandall
---
SUMMER RAFFLE
Raffle License #574190
TICKETS $25 EACH
250 tickets total
etransfer vegrevilleagsociety@gmail.com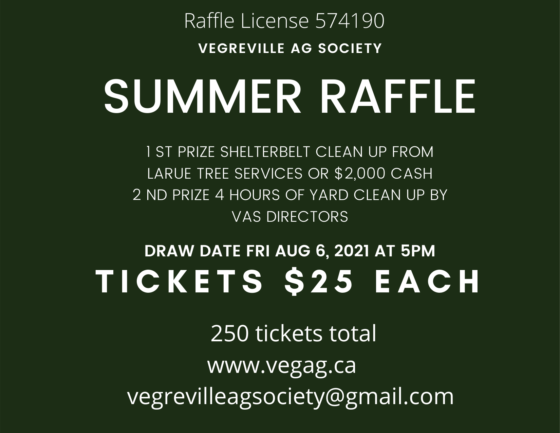 BUY YOUR TICKET TODAY! COME TO THE AG SOCIETY OFFICE OR JOIN US AT THE PYSANKA PARK MARKETS THURSDAYS FROM 5 PM – 8 PM
---
PYSANKA PARK MARKETS
starting June 17, 2021 Join our weekly markets for only $10 per market

Pysanka Park Market Application 2021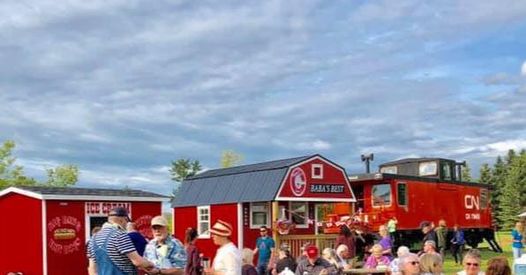 ---