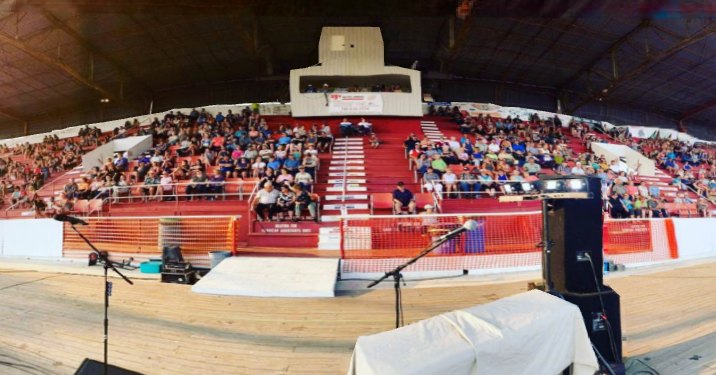 Presidents Annual Report
It's been my pleasure to serve the ag society as president this past year. I'm grateful for our health and happiness. The board and members really came together after a few years of what seemed like one disaster after another. I'm more proud of the group of people that make up the Vegreville Agricultural Society than I ever have been . Just like responsibility fostering responsible behaviour, adversity strengthens us.
We've grown so much this past year. It would seem impossible, if we looked back to last years AGM and tried to predict where we are today. Of course, that never came about without the direction of the board, hard work and dedication of all the volunteers and the employees going above and beyond. And a little luck does help. Our founders laid out a great foundation for the future, which just happens to be our present. If all we do is allow the ag society to continue and grow, we are a success.
We built a regulation tractor pulling track in front of the grandstand. We have sorely missed it, ever since the building of the curling rink and new ag society office, we haven't had a dedicated track. Funny how you don't miss it til its gone. We finally got the east road repaved. Couldn't even tell that it was paved or just gravel. Getting caught up on maintenance, that's been lacking the last few years, has been a priority. After all the main events were complete, we added special sand to the chuckwagon track and outdoor riding arenas got some of their own aggregate. We also did some welding on stalls to make the barn more useable for events. Hopefully this all helps to maintain our status as "The best ag grounds west of the great lakes".
Of course, what's the use of having that title without having great events on these grounds. From one of the best fairs on the prairies, to a modified fathers day event, auction sales and having directors use the grounds. We also provide a great spot for exclusive horse shows, Pysanka days, Bunnock tournament, 4-H achievement days and clinics and a host of other activities.
The addition of a new manager was crucial. But finding one with ag society volunteer experience, director time and even presidential qualifications, was a total bonus. And having all that background here, at the VAS, is icing on the cake. Rachel's proved to be exactly what the ag society needed. Every day she finds better ways of doing things and keeps us on the straight and narrow. If it's even possible to herd Jackrabbits. I almost regret giving her a hard time all these years, almost.
My wish is to continue to add more agriculture back into the VAS. From bringing back cattle to the fair, tractor pulls and farmer specific events are just a few of the things we are working on. Truth be known, the auctions sales were a way for farmers to turn older. underused equipment into much needed cash.
What a great year. We had fun, community enjoyed themselves and participated, we set ourselves up for the future and you'll see shortly, we did good in the books. Thanks so much for electing me to be a part of it all, as the president of the VAS.
Yours truly,
Alan Baxandall, President VAS
SUMMER RAFFLE
Raffle License #574190
TICKETS $25 EACH
250 tickets total
etransfer vegrevilleagsociety@gmail.com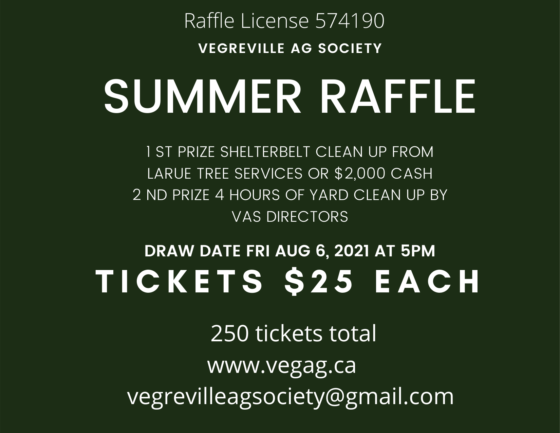 BUY YOUR TICKET TODAY! COME TO THE AG SOCIETY OFFICE OR JOIN US AT THE PYSANKA PARK MARKETS THURSDAYS FROM 5 PM – 8 PM
---
Welcome to the Vegreville Agricultural Society:
The Vegreville Agricultural Society's primary focus was to promote and improve various types of livestock, grain and homemaking skills in a social environment. This aspect remains to this date and has grown to include an annual exhibition and fair, ongoing educational courses and many community sponsored events.
Our mission statement: "To promote agricultural ideals, education and entertainment for community enrichment as a volunteer organization"