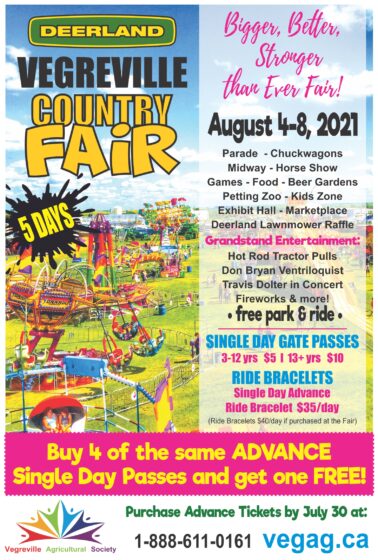 1) Is the midway all 5 days?
Yes! Everything will be running for 5 days. Chuckwagons, chariots, kids zone, Tradeshow, exhibit hall, beer gardens etc. Only thing not 5 days is the horse show.
2) Are the gates passes for certain days?
NO. There is no date on the tickets you can use them any day. If you buy 4 tickets you get 1 for free (purchased before July 30).
3) Should I buy my ticket in advance?
Pre-purchasing your ticket will get you thru the gate quicker.
4) Can you get more than 1 day midway ride bracelet EDITED
Yes you can buy more than one ride bracelet at $35 each day.. For this year there is no multi-day deal for the bracelets.
5) Will there be a parade?
YES the parade is Wednesday Aug 4 at 11 am
6) Is there fireworks?
YES the fireworks are Saturday at 11 pm
7) Do I have to pay to watch grandstand entertainment?
NO your gate pass allows you to watch ALL grandstand entertainment.
8. Are there beer gardens?
YES Wednesday, Thursday, Friday and Saturday at the arena $5 cover charge.
Day beer gardens everyday at Synergy Centre no cover charge.
9) Where can I buy my tickets?
At the Ag Society office 4753 45 Ave Monday to Friday 830 am to 5pm (all forms of payment), at Pysanka Park Market (Thursdays 5-8), or at Rendezvous Park July 28 to 30 cash only.
10) Will you be limiting the amount of people at the Fair?
NO as of right now we are not. We will be following any AHS regulations that are required at that time.
11) Can i bring my dog? NO dogs allowed ONLY if CAMPING
Any more questions please contact us at the office 780 632 3950 or email vegrevilleagsociety@gmail.com
DEERLAND COUNTRY FAIR ANNOUNCEMENT
Park your vehicle in the secure parking lot at 6620 Hwy 16a West (Old TransCanada Building) Across from Walmart.
Bus service will start at 2 pm and end at 11 pm. Wed – Thurs – Fri – Sat and 2 pm – 8 pm Sun.
Park & Ride will bring you right to the Fair Gates and will be traveling back and forth every day
SUMMER RAFFLE
Raffle License #574190
TICKETS $25 EACH
250 tickets total
etransfer vegrevilleagsociety@gmail.com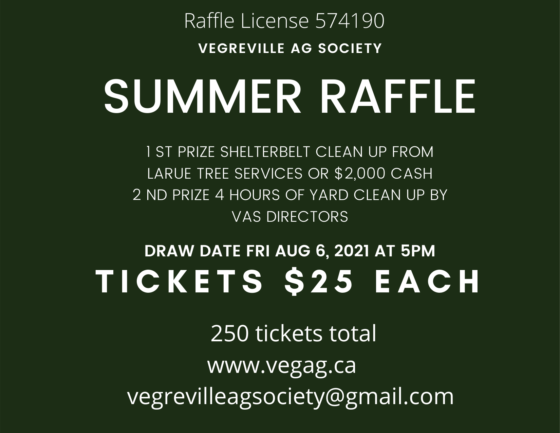 BUY YOUR TICKET TODAY! COME TO THE AG SOCIETY OFFICE OR JOIN US AT THE PYSANKA PARK MARKETS THURSDAYS FROM 5 PM – 8 PM
---
PYSANKA PARK MARKETS
starting June 17, 2021 Join our weekly markets for only $10 per market

Pysanka Park Market Application 2021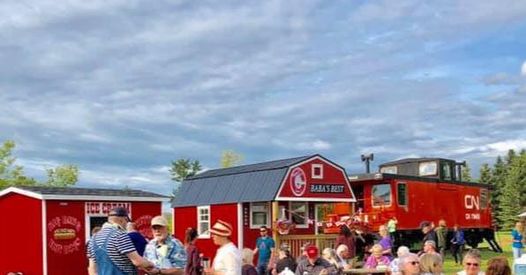 ---
Welcome to the Vegreville Agricultural Society:
The Vegreville Agricultural Society's primary focus was to promote and improve various types of livestock, grain and homemaking skills in a social environment. This aspect remains to this date and has grown to include an annual exhibition and fair, ongoing educational courses and many community sponsored events.
Our mission statement: "To promote agricultural ideals, education and entertainment for community enrichment as a volunteer organization"